OK, I'll admit it, I am a news junkie, I have been for most of my life. I think it started as a kid, in the car with my dad, making us listen to NPR and later on to Rush (the talk radio guy, not the group) anytime we went anywhere (and where I grew up, going somewhere meant you were going to be in the car for quite a while!). Even in college, I loved to sit and watch the news, listen to talk radio or read the paper.
Rob, Pamela and Bruce
Having moved to Arizona back in 95, and working at a little boarding school outside of Sedona, one of my first questions to my boss upon moving to campus was "what is the local NPR station?" Not much changed since moving down to the valley a couple of years later, when I immediately looked for a good talk/news radio station.Well, I found one! At the time, it was KTAR 620 AM, now its
KTAR (92.3 FM
). My favorite show on KTAR is "
The Bruce St James Show
" (aka 'The Libertarian Power Hour"). The show, on Monday to Friday, 9 am -Noon consists of 3 people. Obviously, Bruce St James is at the wheel, with his co-hosts, Rob Hunter (a fellow New Englander and Red Sox fan!!) and the lovely Pamela Hughes.
Now I work from home most of the time these days, as a result I listen to radio pretty much all day (its far less distracting then TV) and these guys are on right in the middle of my work day, so I rarely miss a day. As a result, I have learned a great deal about the hosts of the show. You could imagine my surprise (and delight), when I heard Bruce mention one day not too long ago that Pamela and her husband Chris brewed their own beer. Well, I thought, how cool would it be to chat with her about beer! I've read a lot of "interviews" on other beer blogs with beer industry folks, but I realized you don't often read interviews with people not in the industry, but who are still what I would consider "beer people". So, I figured I could start "chatting" with local, well known valley personalities about their love of beer, and I decided to start with Pamela, (hopefully). So, I went on KTAR's website, found Pamela's email address, and while trying to sound as un-stalker like as possible asked her if she would be willing to sit down and chat with me about beer, or at least answer a few questions via email for me.
Well, I was thrilled to get a very enthusiastic response back, agreeing to meet! So, after a series of emails back and forth to hammer out a time, place and to assure there were no HR policies about to be violated, we nailed it down. We decided to meet at the very newly opened
Sleepy Dog Pub and Bistro
, located almost exactly in between our place, and hers (she lives in the same town as we do, so it made it a lot easier). My wife and I got there a little early, and decided to get a sampler of Sleepy Dog beers, so that I would be in a good position to recommend something to them when they got there. Well, I guess we weren't quite as early as I thought we were, as they arrived soon after we got our beers. So, we made our introductions, and had a seat at the table.

The Sleepy Dog Pub and Bistro
OK, I will admit, I didn't really know what to expect with this meeting. I remember telling my wife on the way over "man, what if she is just a huge bitch?" We had a good (nervous) chuckle about it, as we both sort of realized at that point, we didn't really have a plan at all. I just sort of figured, we would sit down, order some beers, and start chatting and see where that takes us. Which is exactly what we did.
I did have a series of questions I had in mind, so that at the very least, I would have a structured interview I could write about, however, I didn't really want this to be an interview, but rather a conversation, and hoped that was the direction it would go.

The Sampler
Like I mentioned earlier, Pamela is a co-host of the Bruce St James Show on KTAR, she is also the Managing Editor there. She is from a small town in Western PA, and moved to Arizona to attend ASU to study journalism. After a brief stint in the upper Midwest she returned to us here in the valley to join the news team at KTAR. She has since gotten married to Chris, and given birth to a daughter, now 3 (and a half), lovingly referred to on the show as "Baby Riley" (despite pushing 4 years of age).
OK, back to beer. We started off talking about the beer we had in front of us. We both ordered the 6 beer sampler of Sleepy Dogs beers, and spent the first few minutes trading notes on each of the beers (pretty good too, I must say, I'll write more about Sleep Dog at a later date!). That morphed into conversations about our favorite styles of beers, and the inevitable college war stories about beer, and how bad the beer was we drank in college, and yet we still managed to drink WAY too much of it despite of that fact. This lead me to one of my few actual "interview" style questions. "What was the beer that changed your mind about what beer could be? Your "game changer" as I like to call it. Her husband Chris didn't have to think about it, and answered immediately, for him, it was
Saranac IPA
. Pamela and I actually had the same one, that is New Belgian's Sunshine Wheat (this was one of 3 beers that did it for me actually)! This still is among her favorite styles of beers to this day. She is a big fan of the White/Wit's, and hefeweizens. Although she did admit to loving a Sculpin IPA (Ballest Point) clone her husband brews up on occasion, since Chris is more of a hop head, favoring IPA's and other hop bombs.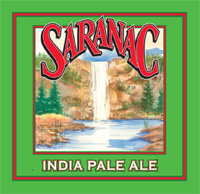 As the night wore on, the conversation seem to move away from beer more and more often. We found ourselves talking a lot about growing up in rural/small town, almost Norman Rockwell/ Main Street America. Something all four of us experienced as kids (Chris is also from PA). Pamela dished some dirt and told some stories about her coworkers (mostly good, don't worry guys). We talked about music. We literally exchanged hunting stories. We talked about raising our kids, and told funny and/or embarrassing stories about their behavior in public, as well as commiserated a bit about how hard it is to find baby sitters and go out once and a while after you have kids.
Pamela Hughes
We learned, as the night went on, that our family's, and upbringings were very similar, and talked about how it shaped our views on everything from family, to food, and of coarse beer. Although, we all had very difference "favorite" styles, we still shared that common denominator, and all had the same attitude towards beer. Near the end of our time together (some 3+ hours), Pamela said something, that seemed to fit the moment. She said, one of the reasons she loves beer, is because "beer brings people together", and I totally agree! More so then a lot of things. Beer allows that door to open, and conversations to start. It always gives you something to chat about, thus avoiding that dreaded awkward silence. It gives you something to have in common, and gives you something to share, and something fun to debate. I think this evening was a perfect example of that. Had it not been for beer, we never would have had the opportunity to sit, and share this time with each other. While we started off talking about beer, we ended up talking about so much more. We learned so much, (and I like to think had a lot of fun) and as a result, we all left there a little more "informed" then we did walking in, which is always a good thing.
While I know beer is "just" a drink, it can be, and should be so much more. I always seem to get back to the fact that, beer should be fun. Beer IS fun. So many people don't give it the respect it has earned, and I feel it deserves. While others still take it to the other extreme and become far to serious about it, most of us haven't lost sight of why it is we started experimenting with beer in the first place. Beer is that stress reliever after a long day at work, yet its also a drink to celebrate with. Its a social lubricate, its the means to bond with old friends or to make new ones. Every now and then, you need something like this evening that we had, to remind yourself of this, and sort of drive home why it is we love this simple, yet so very complex beverage.
Now I am not saying that beer is going to cure the world of all it's ills, but it certainly could help, if we allow it to, don't you think?
I want to thank Pamela, and Chris for taking time out of their busy day, away from their family, to spend a few hours of their time with Kristin and I, so I can pursue this humble little hobby of mine. I also want to sort apologize, as I thought this was going to be more of an interview, or a profile, rather then just a chat over a few beers. However, I think it turned out to be a pretty fun evening, so I hope you don't mind too much!
The Valleys News Radio!!
As for the rest of you, I encourage you to check out "The Bruce St James Show", Mondays through Fridays, 9am to Noon. If you are working at that time, you can check out the pod casts
here.
One more favor, if you know someone here in the valley, or anywhere in Arizona, that is a well known member of media, sports, business or government, that happens to be a big fan of beer, please, let me know, I would love to include them in this series!
Also, stay tuned for my "review" of Sleepy Dog Pub and Bistro coming soon. I will tell you, its a pretty cool place, with good beer, and good food!! Check it out!
Until next time
Bottoms up my friends!
The Beer Czar