Since most everyone has had the Boston and Winter Lagers, I won't write about them here (if you want my opinion on these beers, or any questions, feel free to drop me a line, I'll be happy to share with you), I did want to take some time to mention the other beers in this pack however, so here goes.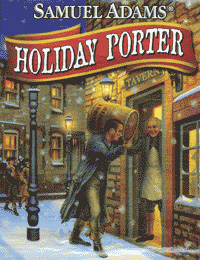 What a GREAT Label!
The Holiday Porter is a great beer! While not a holiday beer in the traditional sense, it is a classic sort of British Style Porter, even though it is listed as an American Porter. This has a strong hop note for a Porter in the aroma, and the flavor has some great chocolate notes. Other flavors you may find are malts, nutty flavors, even some caramel. A very fine, drinkable, silky Porter! Not to mention, it has one of the greatest labels of any Holiday beer as well!
Keep an eye out for more Christmas Beer ideas in the days and weeks to come, and in the mean time….
Bottoms Up my friends!