People often ask me "Ken, what is the best beer you ever had?" I think a lot of people ask me this question, thinking they will get a detailed, in-depth description of some rare, expensive gem of a beer that next to no one has ever heard of, and even fewer have tried. I don't really have an all time favorite beer that I can answer that question with. There are a few stand outs that will always come to mind when I think of my "favorite", Founders Devil Dance, New Holland's Dragon's Milk, Great Divides St Bridget's Porter, Chimay Blue, La Fin De Monde are a few that always come to mind. However, I normally prefer to answer the question by telling them about my most memorable beer. That is easy for me, and the answer to that question is…………Mickey's! I know, not what you were expecting, so let me explain…….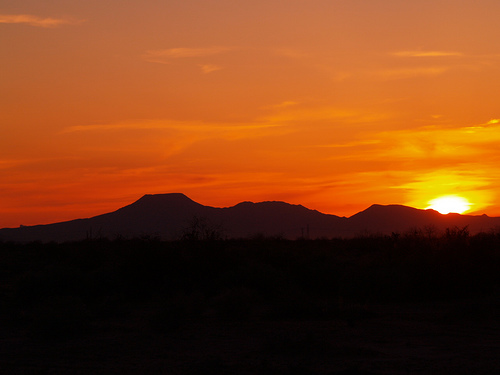 Table Top (on the left) at Sun Set
It was the day after Thanksgiving, the year, probably 1996, or 97. My father and I decided to take a hike to work off the massive feast of the day before, and set out eyes on Table Top Mountain, a flat top "Mesa" 20 or so miles south of Casa Grande. The drive in was a dirt road off I-8 that took us 15 miles into the Sonoran Desert National Monument. The 15 mile drive took us almost an hour, due to the fact that it was not a very well maintained road, but we also made the attempt to drive it in my dad's little Hyundai Excel hatchback. We somehow made it to the parking area, and made our way down the trail. Now this trail is just over 3 miles to the top. The elevation gain is just over 2000 feet. So we were figuring a fairly steep, but doable hike up. Well, after hiking in 2 miles, according to our GPS, we had only gone up about 400 feet. So the last mile, we would go up just over 1500 feet. Needless to say, the hike was tough. I remember standing straight up at one point, and reached out my hand, and my finger tips touched the trail in front me. The weather was also a little warmer then we were expecting, and after making our way up to the top, we rested, and realized we were dangerously low on water. So we made our way back down, finishing up the water we brought about half way down. So we made the rest of the way out to the car, then had to make the almost hour drive back to the freeway, sans water. By the time we made it to the highway, we were both parched, and in need of rehydration. However, my dad suggested we stop and get a beer, and well, I being who I am, decided that sounded great. So we stopped at the first store we came too, a general store that supported an almost abandon RV park for retired folks. Well, if we were expecting at least a decent beer selection, we were sadly mistaken. They had Bud Light, Coors Light, and Mickey's. The only size singles they had were 40's, so dad and I each got a single 40 once Mickey. Now normally, I would never have gotten a Mickey's, and even less likely for me to enjoy it. However, given my condition, the taste of this below average beer dancing across my taste buds was not a sensation I will soon forget, nor will I want to. I can honestly say, rarely since that day, has a beer tasted better to me than the one I drank that day, straight out of that big mouthed bottle, wrapped in a brown paper bag!

The truck stop.

Is this really "the best"?


Too often, I think "beer people" such as myself tend to get a little too concerned with who made the beer, how it was made, what it was made with etc (see my previous post) and we forget, sometimes we should just enjoy a beer as a reward for a long, harder than expected hike, or a lawn well mowed, house just cleaned or whatever. Sometimes it should be more about when, and why you are drinking the beer, rather than "what" beer you are drinking. To me, how and why are normally far more memorable then what.